Outreach and Schools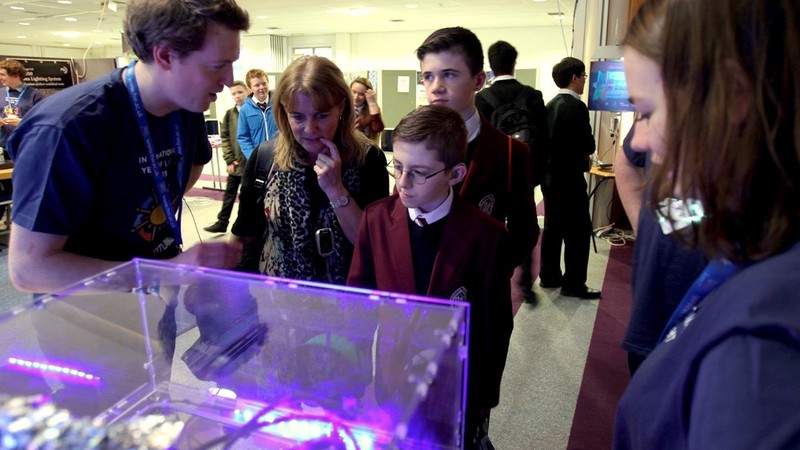 Activities for Schools
Chemistry at Heriot-Watt University (Chemistry@HWU) has over 30 years of history of engaging with schools in Scotland, across the Border Counties of England and more widely with the rest of the UK through a range of internally and externally motivated activities. We feel that interaction with school pupils and teachers is important and provide a number of mechanisms to deliver on this agenda and in support of chemistry in schools.
Any queries? Please email Chemistry-Outreach@hw.ac.uk
Internal Activities
Chemistry Schools' Lecture Series
Our longest standing and highest profile activity is our schools' lecture series in which we visit your class to talk about various topics in chemistry; some are of a tutorial nature while others illustrate the frontiers of chemical knowledge.
Departmental Visits
We invite you and your students to visit Chemistry@HWU to find out about our facilities, our teaching, and to meet our students and staff. Find out more about how to arrage a departmental visit.
Supporting Advanced Higher Chemistry
We are happy to discuss with chemistry teachers supporting Advanced Higher Chemistry student projects their needs for analytical support. For details of how to initiate these discussion see Supporting Advanced Higher Chemistry.
External Activities
Royal Society of Chemistry Activities
We support the outreach activities of our professional body, the Royal Society of Chemistry (RSC) which operates events at local section (Edinburgh and South East Scotland) and regional (Scotland) level.
Each December, we host the Top of the Bench Competition heat for the local RSC Section.
While in March each year, we host the RSC Analytical Division's Scottish heat of the Young Analyst Competition.
Salters' Festival of Chemistry
For many years in late May or early June each year, Chemistry@HWU has hosted one of the many Festivals of Chemistry operated by the Salters' Institute.
Aimed at senior pupils (P6 and P7) from primary schools and junior students (S1 and S2) from secondary schools, we strongly encourage schools from across East Central Scotland and the Borders to participate in this activity and welcome them each year on to our campus at Riccarton near Edinburgh and into our laboratories.
For further details on how to enter and particiapte, see the Salters' Institute Festival of Chemistry website.
Engineering Development Trust Headstart Programme
The Headstart programme operated by the Engineering Development Trust (EDT) on behalf of the Royal Academy of Engineering (RAE) provides fifth year pupils the opportunity to experience university life through a 4 day long residential course at various institutions across the UK.
HWU has operated an Engineering Headstart programme for a number of years for students considering careers in the engineering disciplines. Since 2015, we have also offered a Science Headstart programme for those with a more scientific bent. Chemistry@HWU is one of the disciplines that operates this activity.
To find out more, or to apply online see EDT Headstart programme website.
Other Outreach Activities
As part of the Scottish contribution to International Year of Light in 2015, Chemistry@HWU coordinated the "Bright Light, Big Experiments!" project with local secondary school and with the financial support of the Royal Society of Chemistry.
Chemistry@HWU is a long-standing partner in the Stars 'r' Us! Public Engagement Consortium. This consortium, originally established for the Royal Society Summer Exhibition in 2004, seeks to develop public understanding of the links between astronomy, physics, chemistry, and, to a lesser extent, biology. It focuses on the role of chemistry in the evolution of the modern Universe and its links to the potential for life elsewhere in the Universe. If you'd like to learn more about this and interact directly with the Stars 'r' Us! Team then contact the Stars 'r' Us! team via their website.
Other enquiries
If you have any queries about Chemistry Outreach activities at Heriot-Watt, please email Chemistry-Outreach@hw.ac.uk.