Catering at Edinburgh Campus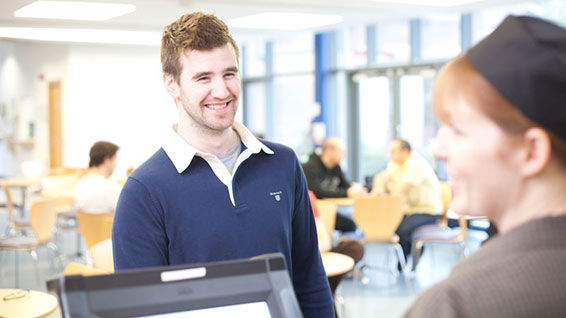 Hospitality Services operate the main outlets on the Edinburgh Campus so if you want your morning Costa or prefer Starbucks - we have this covered. When you need a break from feeding your mind, head to one of the places below to feed your body and soul.
We are open throughout the year with at least one outlet open 7 days a week, changing with the seasons and the academic year. Whether you want a quick breakfast wrap, a traditional Scottish fry up or a continental coffee and croissant – somewhere will be available. Vegetarian, vegan, pescatarian, halaal, gluten-free, lactose intolerant, simply healthy or purely indulgent – we are here to assist. Speak to us – if we can we will.
However we know it is not all about the food so all our outlets offer free Wifi and we invite you to download YoYo – your Free payment app – and pay for your coffee or food by smartphone. Not only is this free, it's quicker and it's totally safe. Even better - your family can go online and top up your YoYo account.
Central

A purpose designed food court with live cooking ad a wide range of options. We serve soups, world and street foods, traditional fish and chips, our hand-made 100% beef burgers and loads more. Check the screens to find out what's on and your app for special deals..

Opening times: Monday–Friday, 8.00am–7.00pm. (Breakfast served 08.00 to 10.00am)
Elements

Elements

Located on the ground floor of the Hugh Nisbet Building, right next to the shop, this large informal multi-functional space and catering outlet offers breakfast, an unbeatable range of made-to-order sandwiches and baguettes.

Opening hours: 10.00-17:00
Cafe Brio

A continental style café serving a high quality range of tea, coffee and hot chocolate, sandwiches, jacket potatoes, cakes, morning pastries, soup and snack bars. Beers and a limited range of spirits also available during licensed hours.

Cafe Brio is a great place to meet friends and chill out before or after lectures or meetings. It is popular throughout the day with large screen TV's providing access to Sky Sports for all the big matches and events.

Opening times: Monday–Friday, 08.00am–20.30pm, Saturday and Sunday 08.30am – 19.30pm (serving continental breakfast 08.30am – 10.30am)
The Piece

Need your high street coffee? This is the place! The Piece is located just next door to the main lecture theatres in the Hugh Nisbet Building, just past the bank and the cash machine and offers Starbucks coffees and frappuccino's, as well as wraps and pizzas made to order. Open all year round.

Opening times: Monday–Friday, 08:30am–17:00pm
Da Vinci's

Da Vinci's continental style cafe bar is situated on the ground floor of the Postgraduate Centre. Open to everyone, this modern outlet serves a range of coffees, cakes, soup, made-to-order sandwiches and baguettes and filled jacket potatoes throughout the day. Sit in or take away. Complimentary newspapers are available so you can catch up as you sip your coffee.

Opening times: Monday–Friday, 08:30am–15:30pm.
Dewey's

Dewey's coffee bar is located in the ground floor area of The Library. If you prefer another high street coffee brand then this is the place for you: Costa Coffee has arrived. This compact outlet offers the full range of Costa coffees plus a selection of sandwiches, soft drinks, rolls, snacks and confectionery. Not only can you feed you mind you can feed your body; grab that coffee on your way to the Sunken Garden, the residences or after a visit to the Museum.

Opening times: Monday–Friday, 09.00am–16.00pm. Extended hours when library is open 24/7
Opening hours

Whilst these are the normal times – operating hours may vary depending on the time of year and levels of demand – please check individual outlets for any changes.

Hospitality Services also manages a number of hot drinks vending machines located across the campus in various Schools as well as within the James Watt 1 centre.
Students' Union
The Students' Union has a number of catering options available and the best thing about buying with us is that all profits go back into student services!
The Student Shop

The Student Shop has a large range of grab-and-go options available, from sandwiches to sushi. Our meal deal is great value for money and gives you a sandwich, crisps and a drink for between £2.49 and £3.29 (simple/premium range). We also are your onsite convenience shop offering a wide range of necessary goods.

We also have gluten free, halal snacks and sandwiches, and Fairtrade products available. We have a wide range of energy drinks as well as our Costa Express machine where you can enjoy a free syrup shot with your coffee.

You can purchase quickly and easily with our self-service checkouts and contactless pay (including Apple Pay) at our manned tills.

Opening hours term time: Monday to Friday 8.00am-9.00pm. Saturday and Sunday 10.00am-9.00pm.

Opening hours outwith the term: Monday to Friday 8.00am-6.00pm. Saturday and Sunday 10.00am-2.00pm.
Liberties

Liberties is the Union's Café. Come and grab a delicious cup of Costa coffee and a breakfast roll (rolls served until 12 noon) or have some lunch. We have homemade soups, panini, toasties, and salads available with meal deals available. You can also order from our bar menu as well with a full range from burgers, nachos, pastas and more. We also provide a range of ciders, bottled beer and wine.

If you fancy something sweet we have cake, scones, or pastries available also.

Opening hours term time: Monday to Friday 9.00am-4.00pm.

Opening hours outwith the term: Monday to Friday 9.00am-2.00pm.
Geordies

Geordies is the Union's bar where we have a variety of homemade fresh meals. Geordies is the perfect place to grab a bite in.

You'll find the best burgers on campus as well as nachos, pasta, burritos, salads and wraps. To satisfy your munchies we offer a range of snacks including chilli cheese fries, onion rings and garlic bread.

Inside you'll also find table football and three pool tables if you feel like taking on your mates. With a giant projector screen and four plasma screens, Geordies is the perfect place to watch big sporting fixtures live. Driving? Don't drink? No worries, Geordies has a great selection of soft drinks and fruit juices as well.

We also have outdoor seating so you can soak up some sunshine while you eat or drink.

Opening hours term time: 12.00 noon - 12.00 midnight every day.

Opening hours outwith the term: Monday to Friday 2.00pm-5.00pm.
Pizza Shop

We also have a Pizza Shop takeaway offering a great range of cooked to order pizzas, wraps and other tantalising food. The Pizza Shop is open every week day term time from 7pm till late (closed non-term time).
Oriam, Scotland's Sports Performance Centre
Try the Bistro Kitchen at Oriam.
Opening times: Monday-Friday, 08:00-20:00. Saturday-Sunday, 09:00-17:00