Undergraduate
Clearing
We are a university that specialises in business, science, technology, engineering and design – subjects that make a real impact on the world and society. Clearing opens on 5 July 2023.
What is Clearing?
Clearing is your opportunity to apply to Heriot-Watt to start this September.
You can use Clearing if you haven't applied for anywhere through UCAS, declined the offers you did receive or if you did not meet the criteria for your conditional offers.
Applications open on 5 July and close on 17 October but spaces are limited so we advise you apply as soon as you can. If you missed the UCAS January deadline, you might be able to apply to Heriot-Watt now, before Clearing opens. Check and apply through UCAS Extra.
Search for programmes
Discover the range of degree programmes available and learn more about programme you're interested in before Clearing opens.
Looking for extra support?
If you or someone you care for need advice on how to manage stress surrounding exams and clearing, find it on the articles on our clearing blog.
Advice Blogs
Reasons to choose Heriot-Watt
Top UK rankings
Ranked 36th in the UK for graduate prospects (The Times/Sunday Times Good University Guide, 2022)
Graduate employability
We're a career-focused university with courses focus on applied teaching and research. 94% of our graduates are in employment or further study within 15 months of graduation.
Campus accommodation
Stay on campus and you will be within easy reach of teaching buildings, sports facilities, catering venues and the Student Union.
Student facilities
1st in Scotland and 3rd in the UK for the amount spent on student facilities (Complete University Guide, 2023).
Foundation Degree
An alternative pathway to your degree
Global College
Consider Global College, an alternative route to begin your degree offering direct entry to second-year study across our undergraduate degrees.
Global College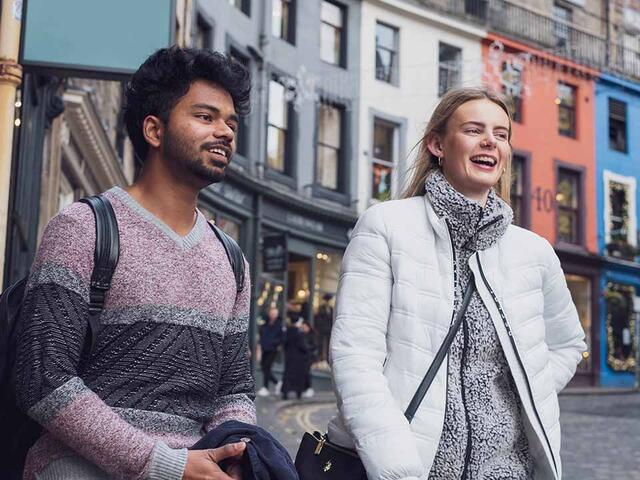 Your Edinburgh adventure starts here
Transcript
It's time to make your future. All you scientists, designers, engineers, entrepreneurs and tech innovators break ground, build bridges, build something we don't have a name for yet.
Forget the status quo. Forget stereotypes.
Go global. Change your environment. Change the environment.
Maybe just leave the world a better place than you found it?
Like we have for nearly 200 years.
Now it's your turn.
Be Future Made at Heriot-Watt University.