Bicentennial Research Leaders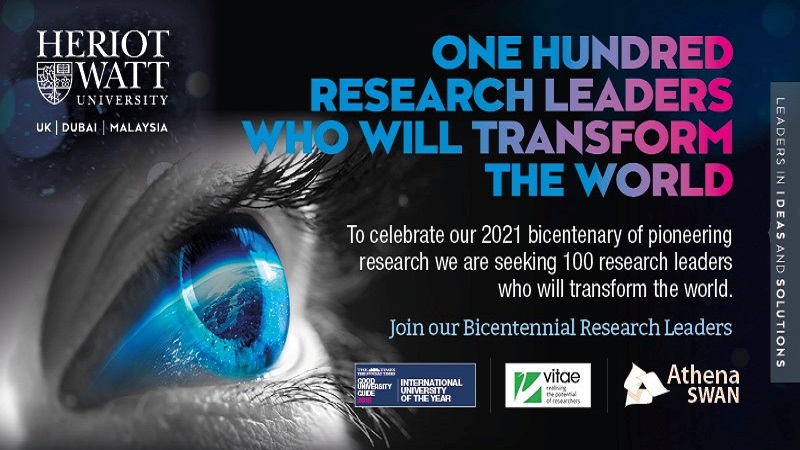 In 2021, Heriot-Watt University will celebrate its bicentenary as an institution known for the creation and exchange of knowledge for the benefit of society.
To celebrate this achievement we have set ourselves the target of recruiting one hundred outstanding research academics between 2018 and 2021.
These outstanding and highly qualified research leaders will strengthen and complement our existing world-class research; raising our capacity to undertake world-leading research and work in collaboration with international business and industry. They will help establish the future strategic direction of the University, enhancing our existing strengths and delivering world-leading research across our three international campus locations.
Successful applicants will have access to a truly global research community, world-class research facilities, and be part of a committed value led organisation that believes in inclusivity and opportunities for all.
If you are interested in joining us please view our current vacancies:
At Heriot-Watt University we understand that being diverse makes us better which is why we support a culture of respect and equal opportunity, and value diversity at the heart of what we do. We want to increase the diversity of our workplace to underpin a dynamic and creative environment. We hold an Institutional Athena Swan Bronze Award recognising excellence in championing employment of women in the field of science, technology, engineering and mathematics.
Future vacancies

We will be recruiting in the following areas of the university in the near future:

The Lyell Centre
Digital Design
Life and Earth Science

However, if you have a proven track record of world leading, collaborative research, we would love to hear from you. Please visit our Bicentennial Research Leaders open advert if you are interested in a Professorial position.
Our offer to you

Here at Heriot-Watt University we strive to attract top-class researchers. In return, we offer:

Competitive salary and benefits offer including individually negotiable start up package
The linking of academic positions to fellowship appointments
Relocation allowance for international employees who are recruited from outside the UK
Access to outstanding career development opportunities
Generous holiday entitlement of 33 days, plus up to 10 public holidays
On-site nursery and childcare vouchers
Reduced membership for our state of the art sports facilities, Oriam
Family Friendly Policies
Counselling service provided by DAS
Key information
Professor Garry Pender
Deputy Principal - Research and Innovation
+44 (0) 131 451 3312