Joe Burnett
4th year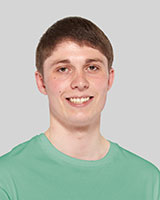 Joe, from Edinburgh, is studying BSc Combined Studies with Computer Science and Business Management.
What appealed to you most about Heriot-Watt University?
The University has always had a good reputation for high quality studies and links with industry. The ability to develop skills in both Computer Science and Business Management in one personalised degree also appealed to me.
Do you feel your degree has prepared you well for a career?
Yes, the teaching in the Computer Science areas of my degree has been very practical and has involved working on projects for real companies, giving an insight into issues faced in industry. Business Management has also used relevant tools to provide understanding of current challenges in the workplace.
Has your degree programme helped you develop links with industry?
The University in general helps you to develop links with industry. My programme is delivered by the School of Mathematical and Computer Sciences and the School of Social Sciences. Both Schools have invited various guests to deliver workshops, projects or talks around topics in industry that relate to what we are studying. There are also various Careers Fairs run throughout each semester.
What would you say to prospective students considering studying at Heriot-Watt?
Heriot-Watt has great facilities, all located on Campus. The library is packed with stuff to help you, the sports centre has various different things to do and the Student Union always has events. The staff here are very passionate on the subjects they teach. Often they are pretty informal too, making it easier to chat to them if you ever need help.