Craig Ritchie
4th year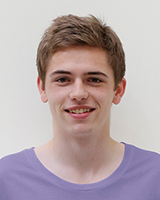 Craig Ritchie is studying BSc Actuarial Science in the School of Mathematical and Computer Sciences.
What industry experience have you had as part of your studies?
I have had two summer internships with life insurance companies in Edinburgh, one with Aegon and the other with Scottish Widows. The department has great links with the industry, so we regularly learn about opportunities for work experience and there are events and talks that take place which keep us up-to-date with current issues. Throughout my degree I've gained technical skills but also an understanding of the industry, so I know what to expect when I begin my career.
What appealed to you most about Heriot-Watt University when you made the decision to come here?
The biggest factor in my decision was the course itself, as I had heard so many good things about the University's reputation for Actuarial Science. I then came to the Open Day and was blown away by the Campus and 
also the sports facilities.