Aman Gosrani
2nd year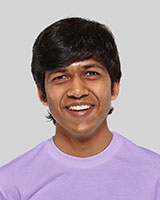 Aman, from India is studying Actuarial Science in the School of Mathematical and Computer Sciences.
What appealed to you most about Heriot-Watt University?
The location of the huge Edinburgh Campus – it's away from the hustle of the city but an easy commute to the city centre. Also, my programme is accredited by the UK actuarial profession and gives me all eight exemptions from the CT series of the professional qualification after I graduate.
How are you enjoying the programme?
So far it has been pretty great. The lectures are well structured and the lecturers are always there to help if some concepts are unclear. The workload gradually builds up but I am left with time to do other activities like going to the University gym or playing sports.
Will your degree programme help you to develop links with industry?
We have had Heriot-Watt graduates and senior members from various companies in to do guest lectures. They discuss their roles and how things work in the real world. This has given me an idea of what skills are needed to work in the actuarial profession. There is also an annual Careers Fair on Campus, which is a great opportunity to get in touch with companies that you may want to work with once you graduate.
What would you say to prospective students considering studying at Heriot-Watt?
If you choose to study at Heriot-Watt, you won't regret your decision. The staff are really nice and provide support when needed. There are lots of international students, making the University culturally diverse, and there's a range of clubs and societies to be part of.