Thomas Guest
3rd year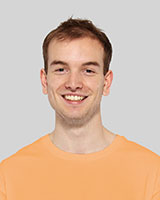 Thomas, from Somerset, England, is studying Biological Sciences.
What appealed to you most about Heriot-Watt University?
I liked the unique campus life available at Heriot-Watt. Guaranteed accommodation for first year meant that I could live on campus and have everything within easy reach. The international outlook also appealed as I could meet people from all over the world. The broad subject field in biology was also a deciding factor.
Do you feel your degree has prepared you well for a career?
Yes, there has been lots of advice about different career options and class projects have real-world applications. The University's Careers Service has been really helpful and runs programme-specific Careers Fairs. Field work, such as shore surveys, relate well to the work many marine biologists do after graduating so you know you are learning skills that are useful. Even if you don't go on to be a marine biologist, the related lab work is good practice for any bioscience career.
How are you enjoying the programme so far?
I think it's great and has allowed me to explore different areas of biology such as plant science and food security before deciding what to specialise in. I am interested in molecular biology and applied microbiology.