Heraa Anwar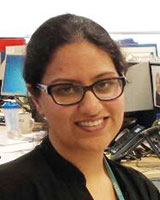 Safety Engineer, Atkins
Heraa, who studied Chemical Engineering with Energy Engineering in the School of Engineering & Physical Sciences, now works as a Safety Engineer at Atkins.
What influenced your decision to choose Heriot-Watt?
Heriot-Watt's excellent reputation for Chemical Engineering as well as its strong links with industry were key reasons for me deciding to study there. I also visited the University and liked the people and the Campus. The teaching staff were all welcoming and the programme was structured so that I could focus on particular areas of interest as I progressed.
How did your experience here help you on your chosen career path?
The Chemical Engineering programme provided me with the technical skills required to become an
engineer in industry, allowing me to develop a broad and thorough understanding of chemical
engineering and its applications in the working world.
What did you enjoy most about your programme?
I enjoyed the various design projects. They were a great way to put into practice everything I learned through lectures and tutorials and also allowed me to develop both technical and non-technical skills.
Can you tell us about your current job?
I currently work at Atkins as a Safety Engineer for the offshore oil and gas industry. As part of my job, I assess the risk associated with various offshore installations, looking at hazardous inventories and the size and durations of fires and explosions caused by them. I use my analysis to assess the consequences of potential fires and explosions and the threat they pose to the asset and any personnel on board.
What advice would you give to a prospective student considering embarking on their studies at Heriot-Watt?
Make the most of the helpful staff who have great technical and industrial experience. Don't forget to enjoy yourself and take the opportunity to meet as many new people as possible.