Heather Cheung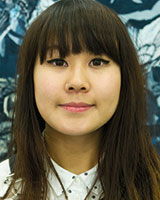 Print Assistant, H&M in Stockholm
Heather, who studied Design for Textiles (Fashion, Interior, Art) in the School of Textiles and Design, now works as a Print Assistant at H&M in Stockholm.
What does your job involve?
My role is to assist the senior print designer, creating artwork for production and developing inspirational prints for the upcoming seasons. I am involved in designing a range of placement prints for the upcoming trends for the youth fashion market. I also sort out the colour separation in the designs and I am responsible for ensuring print samples match the design exactly.
How did you get your job?
I found my job on the H&M careers website and applied. My tutor had nominated me for Texprint
2013, which definitely raised my profile and helped me stand out from other applicants.
However, it is important that you make the effort to properly search for job opportunities yourself.
How did you decide to specialise in print?
I decided during a course in 2nd year regarding lace and paisley designs. I really enjoyed spending hours drawing various intricate details and making textures with my pen and that's when I realised I loved my hand drawn designs on a variety of surfaces.
What was the best bit about your degree at Heriot-Watt?
I enjoyed being able to work creatively and develop my own unique ideas. When you work for
a company, you are limited as you are working to someone else's brief. It was great being able to
learn new techniques in an amazing print studio space and create designs that I enjoyed.