Emma Hamilton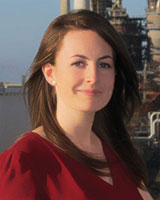 Cost and Schedule Engineer, ExxonMobil Fawley
Emma, who studied Mechanical Engineering in the School of Engineering & Physical Sciences, now works as a Cost and Schedule Engineer at ExxonMobil Fawley.
What was your experience of doing an undergraduate degree at Heriot-Watt University?
I loved my UG degree programme and it has given me a great engineering grounding. I also gained valuable technical 'soft skills' through the emphasis on group projects, which are vital for any career.
How did your experience here help you on your chosen career path?
I was able to secure summer placements in both third and fourth year; at Dana Petroleum working in Upstream design, and ExxonMobil Downstream focusing on an environmental improvement project in a gas turbine. I was offered a position as a result, and I now work in ExxonMobil Engineering as a Cost and Schedule Engineer on refinery projects >$20M around Europe.
What influenced your decision to choose Heriot-Watt?
The University have a number of industry links which provided early exposure to job roles, and also the opportunity to collaborate with a company on a group design project. I also liked the campus atmosphere, and the balance between student numbers and the engagement of the lecturers is definitely one of the secrets to its success.