David Bold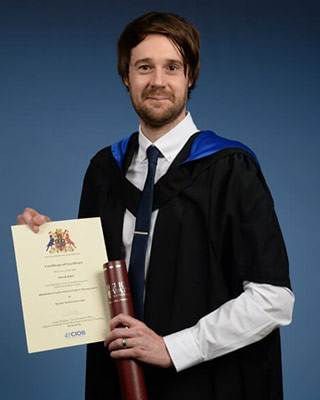 David graduated with a BSc (Hons) Construction Project Management in 2019 and won the Chartered Institute of Building Certificate of Excellence prize and the Scottish Building Federation Edinburgh and District Charitable Trust prize.
What appealed to you most about Heriot-Watt University when you made the decision to come here?
The University is very highly rated in terms of construction related degrees. Moreover, a big factor for me when deciding to study at Heriot-Watt was the Go Global programme. I transferred to the Malaysia campus in Year 3 which was a fantastic experience.
What is your favourite memory of your time at Heriot-Watt?
Transferring to Malaysia in year 3 was one of the best experiences I had during my time at Heriot-Watt. The opportunity to immerse myself in new cultures and to study in a different environment was both challenging and rewarding.
How has your degree programme prepared you for a career?
The programme provided me with opportunities to reach the next stage in my career which is my new position as a Graduate Project Manager. It allowed me to develop several skills required to be successful in securing this position including writing and computing skills, communication and presentation skills, and the ability to work as part of a multidiscipline team.
What would you say to prospective students considering Heriot-Watt as their first choice of university?
I would highly recommend Heriot-Watt to anyone who aspires in having a successful career in the construction industry. The University in general is user-friendly from the supportive lecturers and staff to the available resources and study space. Organised field trips to European destinations were also great fun. The Go Global programme allows students to prepare for future Global careers which is ideal as some of the world's biggest companies will be looking to attract talent from the University.
Find out more about our undergraduate degrees in Construction Project Management and Quantity Surveying.