Students from England, Wales and Northern Ireland | UCAS Clearing 2023
Sign up to get exclusive support – avoid the queue on the Clearing phone lines and be kept up to date with important dates and information.
Register your interest
Search our programmes
Reasons to choose Heriot-Watt
Top UK rankings
Ranked 36th in the UK for graduate prospects (The Times/Sunday Times Good University Guide, 2022)
Graduate employability
We're a career-focused university with courses centred around applied teaching and research. 94% of our graduates are in employment or further study within 15 months of graduation.
Campus Accommodation
Stay on campus and you will be within easy reach of teaching buildings, sports facilities, catering venues and the Student Union.
Student facilities
1st in Scotland and 3rd in the UK for the amount spent on student facilities (Complete University Guide, 2023)
Where is Heriot-Watt?
Our campus is six miles from Edinburgh city centre and buses take just 30 minutes, stopping outside our main entrance. It's easy to get to the city and there is a night bus service, so you have a safe route home if you're out late. Buses are free too – students under 22 can apply to the free bus travel scheme that covers all of Scotland.
Edinburgh is a very well-connected city so you can travel by plane, direct train or coach to most UK cities. Use our travel page to plan your journey.
Funding at a Scottish university
If you're from England, Wales or Northern Ireland the variable tuition fee will be £9,250 per year for our degrees (BA/BSc/MA Honours). This is the same as the fees in many English universities because these fees are regulated by the UK Government.
We have a range of scholarships and bursaries available that you may be eligible for too.
Take three
It's usually a four-year programme, but as a student from England, Wales or Northern Ireland you can take direct entry into second year, for a three-year programme.
As an A-Level student you can apply to the first year of a degree in Scotland and study for four years but you can also consider advanced entry into second year. This would mean your degree would take three years to complete, just the same as elsewhere in the UK. Undergraduate degrees in Scotland are typically four years long and graduates qualify with an Honours degree. Generally, the first two years offer breadth of study in the subject area, with the final two years providing specialisation. You will find the entry requirements for entering from first year and directly into second year for all our programmes in the prospectus.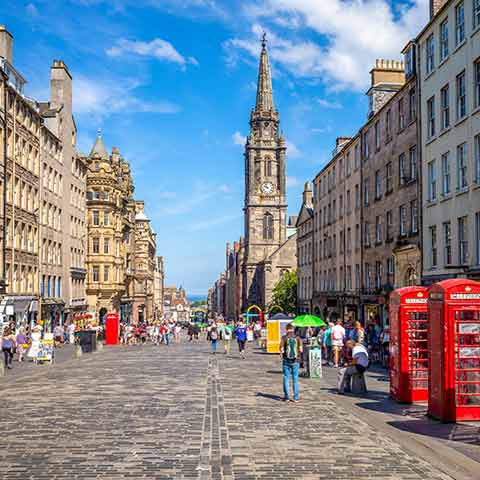 Life in Edinburgh
Discover why Edinburgh was voted the best city in the world last year by the Time Out Index. It's got everything – a vibrant nightlife, a café culture, restaurants for every cuisine, festivals throughout the year, nearby beaches, and plenty of green space. The city is also rated the third safest in the world (YouGov, 2022) so it's no wonder that students make up one fifth of the population.
Travel home bursary
Moving away from home is a big transition so we want to help you visit home whenever you like. A no-strings attached £1,500 bursary is yours in your first year with us. It's paid straight into your bank account in three £500 instalments in October, February and April.
Campus accomodation
Living on campus can add a new dimension to your university experience. It's a great way to establish friendships and provides you with a safe and comfortable home during your studies. We have a range of accommodation options, with five self-catered blocks providing over 2,000 rooms. You will have your own study bedroom, the majority of which have en-suite bathrooms and access to home comforts – a shared kitchen and communal space, and laundry facilities. Energy bills, broadband and Wi-Fi are included.
Our foundation study option: Global College
Are you worried about not getting the grades to get into university this year? Our Global College option is an alternative route to accessing your chosen degree and offers direct entry to second-year study across many of our undergraduate degrees.
Our alternative pathways are a great option if you have not achieved the conditional entry requirements and you can apply to our Global College courses through Clearing. You will gain the necessary knowledge and skills of your chosen subject to progress higher, alongside the key skills needed to achieve academic success in higher education. Our course subjects include: Business, Technology, Accounting and Finance, Psychology and more.
Discover our pathways