Construction Management BSc: Lee Chin Sheng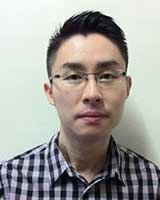 Lee Chin Sheng graduated with a BSc in Construction Management in 2008 and MSc in Facilities Management in 2012. He is a Graduate Member of the Royal Institution of Chartered Surveyors (RICS) and has been appointed to an expert committee representing Malaysia in drafting global standards.
"I am currently employed by CBRE as Facilities Manager for the American Express regional offices in Malaysia and Indonesia where I head the facilities division for the two countries.
"The knowledge and experience I gained during my studies at Heriot-Watt prepared me well for accomplishing various challenges in my job and have been very relevant to the workplace in practice. The well-thought-out programmes offered provide an exceptional learning experience to students and graduates. They inspire and deliver a great learning environment and culture.
"My highly recognised qualifications also equipped me with the capability to prove my competency to PhD level where I am currently a PhD candidate for a Real Estate and Facilities Management programme in one of the Malaysian public universities. In 2013, I was appointed to sit on an expert group and technical committee representing Malaysia in drafting global facilities management standards."