Bachelor of Business Administration BBA: Celine See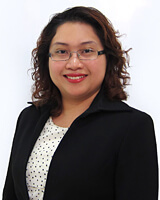 Celine is a Malaysian graduate who studied for her BBA degree on a distance learning basis.
"I studied my Heriot-Watt degree part-time in Malaysia, through the distance learning programme, and I can honestly say that it changed my life! Undertaking it was a big challenge – I was working full time and raising a family – and I very nearly gave up but Heriot-Watt offer very flexible programmes for working adults that made it possible for me to continue, and eventually complete, my BBA.
"What I feel I really benefited from was the practical knowledge and all the case studies the programme covered. These have proved incredibly useful to my career and have definitely increased my employability. That knowledge helped me to impress the right people! Ultimately, it's led to my current role at Tricor Group of Companies where I am the Business Development Manager for Malaysia corporate office. I do feel proud of what I have achieved, particularly as a working mother, and my Heriot-Watt degree played a pivotal role in building my career."