(Dr) Tan Suee Chieh (Honorary Graduate School of Mathematical and Computer Sciences, DLitt)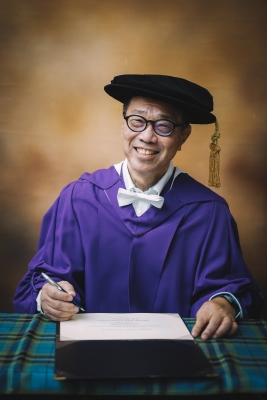 (Dr) Tan Suee Chieh is a Malaysian-Singaporean businessman and actuary. He was appointed the Group Chief Executive at NTUC Enterprise on 1 October 2013. He is the Immediate Past President of the Institute and Faculty of Actuaries and a member of the Presidential Team (June 2019 to June 2022).

He also sits on the boards of Singapore University of Social Sciences, Sim Kee Boon Institute of Financial Economics (SMU), LSE Trust (Singapore), Singapore School of the Arts and various boards of the Institute and Faculty of Actuaries (UK).

He was the Group Chief Executive at NTUC Enterprise from October 2013 to February 2017. Enterprise is the holding entity of the NTUC social enterprises (cooperatives). The group has businesses in: Retail; Food & Beverage; Financial Services; Education & Training services; Eldercare services and Property.

From 2007 to 2013,(Dr) Tan Suee Chieh was the Chief Executive of NTUC Income, a composite cooperative insurer and one of the largest insurance businesses in the Singapore market.

Between 2003 and 2007, he was President, Asia Pacific of the SHL Group Ltd, a British HR consultancy firm and a world leader in objective assessment. From 1981 to 2001, Suee Chieh was with the Prudential Group and held several senior positions including Actuary of Prudential Malaysia, Chief Executive of Prudential Singapore and Regional Managing Director, Established Markets of Prudential Corporation Asia.

(Dr) Tan Suee Chieh has a first class honours degree from the London School of Economics and a Masters degree from Columbia University, New York.

He is a Past President of the Life Insurance Association of Singapore and the Actuarial Society of Malaysia.

In February 2022, (Dr) Tan Suee Chieh was conferred an honorary degree by Heriot-Watt University Malaysia for his contribution to actuarial science and his support of empowering lives through education.