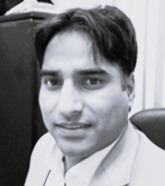 Dr Iftikhar Hussain
Research Associate
BSc, MSc, PhD
An experienced researcher and academician as a research associate at Heriot-Watt University, Edinburgh Campus, Iftikhar has more than 10 years experience in teaching undergraduate and postgraduate courses and in research projects in computing and transportation in United Kingdom, Belgium, Pakistan, and Qatar. His research is in the domain of agent-based modeling, developing multiple simulation systems for transportation and waste management applications using dedicated modeling and simulation methodology (CRIO meta-model) with many scientific papers accepted to International Journal and Conferences. His research focuses on system modeling and simulations, organizational-based and agent-based modeling, multi-agents in transportation, modeling interactions and negotiations, modeling and prediction of human behavior, machine learning, and matching algorithms. He is associated with highly ranked journals as reviewer and editor and is an active member of the IEEE, IEEE ITSS, IEEE VTS, IEEE Council on RFID, Internet Society and NCEAC Program evaluator.
Areas of interest
Modelling and simulation
Road freight transport
Supply-chain and logistics
Cold-chain logistics
Waste management
Matching in carpooling
Transportation behavior
Organizational-based and agent-based modeling
Multiagents in transportation.
Qualifications
2003 – 2007 – Bachelor of Science in Information Technology from UAJK, Muzaffarabad, Pakistan
2008 – 2010 – Master of Science in Computer Science from Iqra University, Islamabad, Pakistan
2013 – 2017 – PhD in Mobility Sciences from Hasselt University, Belgium
Background
2021 – 2022 – Research Associate at Hamad Bin Khalifa University, Doha, Qatar
2017 – 2021 – Assistant Professor at Beaconhouse National University, Lahore, Pakistan
2013 – 2017 – Research Assistant and PhD student at Hasselt University, Belgium
2010 – 2013 – Lecturer at University of Azad Jammu & Kashmir, Muzaffarabad, Pakistan