Sarita Bhattarai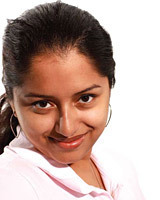 Why did you decide to study at Heriot-Watt University?
Heriot-Watt was my first choice as I was looking for a well reputed UK university.
What do you enjoy most about your programme?
My tutors are extremely knowledgeable and incorporate their practical experiences in their teaching styles.
What will being a graduate of Heriot-Watt University do for your future?
Being a Heriot-Watt graduate will give me a competitive advantage in the industry as I will have the right skills and potential for the right job. Also coming from a renowned university makes a big difference.
What's been the highlight of your time here so far?
Besides studies, having fun with friends and indulging in clubs and societies has been a wonderful experience.
Describe Heriot-Watt University in four words:
Education at its best.