Melika Ardestani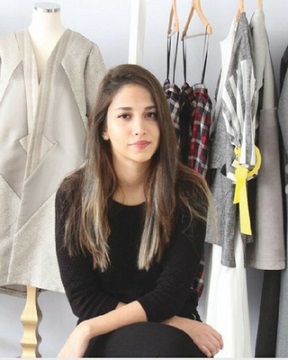 Why did you decide to study at Heriot-Watt University?
After researching Heriot-Watt University thoroughly, I learnt about the School of Textiles and Design and its faculty. I instantly felt that this is a place where I can acquire an education unlike anywhere else. Something just felt really good about joining Heriot-Watt. That feeling only became stronger after I found out their rankings. Needless to say I don't regret my decision to study here.
What do you enjoy most about the programme?
The variety of information presented to us about the industry. We get to look at the industry from all perspectives and hence, gain better understanding on how to provide better service.
What will being a graduate of Heriot-Watt University do for your future?
An outcome of studying in Heriot-Watt for me is a lot of knowledge on the topics of importance such as researching trends to designing, fashion illustration and technical drawing as well as pattern making, garment construction and fabric selection. I also felt more prepared to join the workforce as a designer, because my programme of choice concentrated on how to present your design and portfolio in a professional manner, which ended up benefiting me greatly.
What's been the highlight of your time here so far?
To be honest, the highlight wasn't during my studies in Heriot-Watt but is a direct result of studying at Heriot-Watt University. In 2014 I graduated and moved back to Tehran, Iran where I started my own business. Through studying fashion at Heriot-Watt I got the required skills and confidence to set up my own label, and I got to understand the industry. Another important skill I learned is how to engage and focus on my customer and market level. I am proud to say that I have my own studio and am busy building my brand all thanks to Heriot-Watt University.
Describe Heriot-Watt University in four words:
Fashion design in a professional manner