Lakshmi Chandrasekaran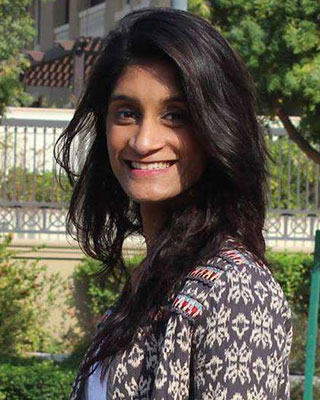 Lakshmi Chandrasekaran studied Psychology with Management, BSc (Hons) in the School of Life Sciences (now School of Social Sciences).
Why did you decide to study at Heriot-Watt University?
Heriot-Watt University was ideally located in Dubai, a few kilometres away from home and a vibrant city. I was intrigued that I could possibly get the knowledge and teaching I need without having to spend too much money and time away from family and friends. My main focus was to major in Psychology and after having a look at the course catalogue and meeting the Head of the Department, Annie Crookes, I made my decision to stay.
What do you enjoy most about your programme?
The programme is a perfect balance of Psychology and Management. At first I found the combination to be absurd and it was only after I took few courses that I realised the importance of having a taste of both worlds. This is what I enjoyed the most - developing perspectives from two different schools of thought. Also, the research methods module - often resented by many - was my favourite. It taught me that Psychology is more than a science but a subject that consists of trial and error. Learning about different experiments and how research is done made me feel like I could use this knowledge in the near future to make a difference. Other than the course content, the team and individual assignments were structured appropriately, which were made to test our potential and improve it.
What will being a graduate of Heriot-Watt University do for your future?
Being a graduate of Heriot-Watt University, Dubai gives you more than three advantages. For starters, Heriot-Watt University offers honours courses which are critically acclaimed by UK institutions and give students good options for pursuing their Masters. I applied to five UK universities for my Masters after Heriot-Watt University, Dubai. I got accepted into universities like Kings College, Leeds University, Nottingham University, Edinburgh University and Aston University, all of them are among the best universities for Psychology and Business in the UK. Secondly, having graduated from Dubai gives you better employability options, considering that students in Dubai are often exposed to diverse situations and cultural differences. This makes students more desirable with respect to diversity in teams and performance. Finally, the intensive assignments during the course prepares students for more than just academic challenges but how to effectively manage time and make decisions. For example, my employability options were high due to the projects I pursued in Heriot-Watt University such as the Corporate Social Responsibility Challenge Project. Overall, Heriot-Watt University has significantly contributed to my learning and increased my chances of getting into a highly recognized university such as Aston University.
What's been the highlight of your time here so far?
After spending four years at Heriot-Watt University, Dubai I can certainly say I have evolved over the years. My horizon has broadened and has nudged me to achieve more. Also, I managed to meet great friends and faculty at the University without whom I wouldn't have come this far. Furthermore, taking on responsibilities like the School Officer for School of Life Sciences got me involved in various activities and services which enabled me to help students and faculty members to a certain extent.
Describe Heriot-Watt in four words:
International, challenging, positive and fun.