Farah Mahmood Moosa Al Zadjali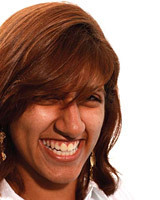 Why did you decide to study at Heriot-Watt University?
I chose to study at Heriot-Watt University because of the good reputation and high quality of education.
What do you enjoy most about the programme?
It has a creative atmosphere that creates enthusiastic students.
What will being a graduate of Heriot-Watt University do for your future?
Graduating from Heriot-Watt University means I will hold a highly recognised qualification from the UK as well as giving me hands on experience within an industrial setting.
What's been the highlight of your time here so far?
Friendliness, creativity, diversity, hyperactivity.
Describe Heriot-Watt University in four words:
It is the best!