Amjed Al Mouaqet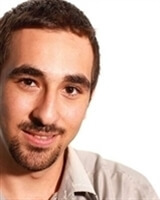 Why did you decide to study at Heriot-Watt University?
Being at Heriot-Watt's Dubai Campus has given me the same atmosphere that I had when I previously studied in Scotland, while allowing me to be closer to my friends and family.
What do you enjoy most about the programme?
The variety of the courses that are provided in the programme enabled me to decide on my future field of interest. Also, as the classes are not too big, the lecturers are able to dedicate time to students.
What will being a graduate of Heriot-Watt University do for your future?
Graduating from one of the finest universities in Scotland will enable me to have better career prospects.
What's been the highlight of your time here so far?
Getting to meet loads of friends and enjoying the club activities that are provided.
Describe Heriot-Watt University in four words:
'The Finest Scottish Education'.