BEng (Hons) Civil Engineering
The course
Delivery type

Day

Duration

4 years (full-time)

Intake date

September

Location

Dubai
Contact
Contact

Heriot-Watt University Dubai Campus

Telephone

+971 4 571 7000

Email
Overview
The programme covers the main civil engineering disciplines of Structures, Geotechnics, Water Engineering and Transportation Engineering, and provides students with the key analytical and practical skills and knowledge required to become chartered civil or structural engineers. After graduation, students are equipped to work for consultants, contractors or government at senior management level.
The core curriculum includes instruction in all main subject areas, concentrating on analysis and materials behaviour with an increasing focus on design and management in the specialisation years. Throughout, there is an emphasis on the personal development of students within a professional environment.
Why study Civil Engineering at Heriot-Watt University's Dubai Campus?
The first and only programme in the Gulf region to offer a UK Civil Engineering degree.
The first and only civil engineering programme in the Gulf region to be accredited by the Institution of Civil Engineers (ICE), the Institution of Structural Engineers (IStructE), the Chartered Institution of Highways and Transportation (CIHT), and the Institute of Highway Engineers (IHE).
Gives you engineering skills to create landmark civil engineering structures – the transformation of ideas into reality.
Our programme is designed to help shape the built environment for the 21st century, not only in terms of civil engineering but also to support a sustainable, energy efficient and green society.
Accreditation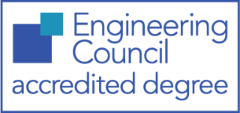 The Dubai Campus is accredited by the Knowledge and Human Development Authority (KHDA) and fully licensed to teach its degrees in Dubai. All graduates receive a British degree that is accredited by Royal Charter in the UK.
This degree is accredited as partially satisfying the educational base for a Chartered Engineer (CEng). In common with other BEng accredited degrees, a programme of accredited Further Learning will be required to complete the educational base for CEng.
Accreditation is a mark of assurance that the degree meets the standards set by the Engineering Council in the UK Standard for Professional Engineering Competence (UK-SPEC). An accredited degree will provide you with some or all of the underpinning knowledge, understanding and skills for eventual registration as an Incorporated (IEng) or Chartered Engineer (CEng). Some employers recruit preferentially from accredited degrees, and an accredited degree is likely to be recognised by other countries that are signatories to international accords.
Student profile
Students are encouraged to build confidence with the help of presentations and group works, that really helped develop and enhance their interpersonal skills.
Go Global
With Go Global, Heriot-Watt's global student programme, you can carry your studies to new places and experience new cultures, expanding your horizons on the way.
You'll discover what it means to be a true global citizen and emerge prepared for wherever your career journey will take you.
Course content
Note that the programme structure below is provided to illustrate the distribution of teaching and is subject to developmental change.
First year
Semester 1
Mechanics A
Civil Engineering Applications 1
Construction Technology 1
Mathematics for Engineers and Scientists 1
Semester 2
Mechanics B
Introduction to Materials
Introduction to Engineering Design
Mathematics for Engineers and Scientists 2
Students take part in site visits to a range of construction sites
Second year
Semester 1
Analysis of Determinate Structures
Hydraulics and Hydrology A
Surveying and Monitoring in the Built and Natural Environment
Mathematics for Engineers and Scientists 3
Semester 2
Civil Engineering Materials
Stress Analysis and Element Strength
Design Studies A - Problem Solving
Statistics for Science
Third year
Semester 1
Design of Steel Elements
Transport Design, Infrastructure and Society
Indeterminate Structures
Geology and Soil Properties
Semester 2
Hydraulics and Hydrology B
Geotechnics A - Introduction to Soil Mechanics
Design of Concrete Elements
Environmental Technology and Management
Fourth year
Semester 1
Dissertation 1 Civil Engineering programme (S1, mandatory)
Geotechnics B - Soil Strength (mandatory)
Highway Engineering (optional)
Structural Element Design (optional)
Sustainability for Construction Professionals (optional)
Semester 2
Dissertation 1 Civil Engineering programme (S2, mandatory)
Civil Engineering Design Project (mandatory)
Foundation Engineering (mandatory)
Plastic Analysis of Structures (optional)
Urban Drainage and Water Supply (optional)
Water and Wastewater Treatment (optional)
Career
Graduates from the Civil Engineering programme can expect to find jobs in multinational civil and structural engineering companies, government organisations and small to mediumsized private sector firms (building, civil and structural engineering).
Entry requirements
Our entry criteria are listed below. However, please note that the final decision remains at the discretion of the course director after evaluating scores of individual relevant subjects.
Students who are eligible to be admitted directly into second year can choose to join the first year, where available.
First year entry
GCE A-Level CCC (or AABB at AS-Level)
CBSE 65%.
American High School Diploma + SAT 1s - 1000
Tawjihiyya 80%
International Baccalaureate 24 points.
BTEC Level 3 Ext Diploma MMM
Foundation year Successful completion of Heriot-Watt University Degree Entry Programme (Engineering) with a BBBB.
FBISE grade 12 or equivalent – 70%
Curriculum Russian/Kazakhstan (Attestat) with minimum grade of 5 + IELTS 6.0
EmSAT minimum 1400 English, 1300 Maths, 1100 Physics, 1100 Chemistry
Compulsory subjects to include Mathematics, Physics and English.
Second year entry
GCE A-Levels BBC.
International Baccalaureate 27 points.
CBSE Overall 85%
American High School 70% + 3 AP at grade 4 OR Minimum 3 SAT 2's 500 each
Higher National Diploma (HND) PPP
BTEC Level 3 Ext Diploma DDD
FBISE grade 12 or equivalent 85%
Transfer students from other universities may be considered on a case-by-case basis.
To find out about the entry requirements for this programme, please send an email to dubaienquiries@hw.ac.uk
English language requirements
Where English was not the medium of instruction at secondary school, applicants must demonstrate English language proficiency equivalent to IELTS 6.0 Academic (with no element below 5.5).
Fees and funding
* All tuition fees inclusive of VAT
Scholarships and bursaries
See our range of degree entry, undergraduate, postgraduate taught and PhD scholarships and discounts.