The course
Delivery type

Day

Duration

Full-time: 4 years (BEng Hons)

Intake date

September

Location

Dubai
Contact
Contact

Heriot-Watt University Dubai Campus

Telephone

+971 4435 8700

Email
Overview
The programme covers the main civil engineering disciplines of Structures, Geotechnics, Water Engineering and Transportation Engineering, and provides students with the key analytical and practical skills and knowledge required to become chartered civil or structural engineers. After graduation, students are equipped to work for consultants, contractors or government at senior management level.
The core curriculum includes instruction in all main subject areas, concentrating on analysis and materials behaviour with an increasing focus on design and management in the specialisation years. Throughout, there is an emphasis on the personal development of students within a professional environment.
Why study Civil Engineering at Heriot-Watt University's Dubai Campus?
The first and only programme in the Gulf region to offer a UK Civil Engineering degree.
The first and only civil engineering programme in the Gulf region to be accredited by the Institution of Civil Engineers (ICE), the Institution of Structural Engineers (IStructE), the Chartered Institution of Highways and Transportation (CIHT), and the Institute of Highway Engineers (IHE).
Gives you engineering skills to create landmark civil engineering structures – the transformation of ideas into reality.
Our programme is designed to help shape the built environment for the 21st century, not only in terms of civil engineering but also to support a sustainable, energy efficient and green society.
Accreditation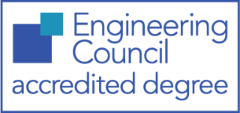 The Dubai Campus is accredited by the Knowledge and Human Development Authority (KHDA) and fully licensed to teach its degrees in Dubai. All graduates receive a British degree that is accredited by Royal Charter in the UK.
This degree is accredited as partially satisfying the educational base for a Chartered Engineer (CEng). In common with other BEng accredited degrees, a programme of accredited Further Learning will be required to complete the educational base for CEng.
Accreditation is a mark of assurance that the degree meets the standards set by the Engineering Council in the UK Standard for Professional Engineering Competence (UK-SPEC). An accredited degree will provide you with some or all of the underpinning knowledge, understanding and skills for eventual registration as an Incorporated (IEng) or Chartered Engineer (CEng). Some employers recruit preferentially from accredited degrees, and an accredited degree is likely to be recognised by other countries that are signatories to international accords.
Go Global
This Dubai-based course has the following 'Go Global' options: