Halla Mohieddeen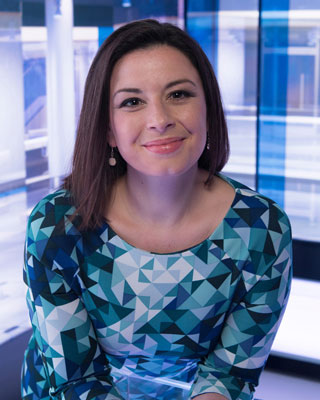 Halla Mohieddeen
Languages (Interpreting and Translating) (2002)
Presenter at STV
Making live TV news look easy is decidedly not easy. It takes poise under pressure to maintain a polished façade but it's all in a day's work for Heriot-Watt alumna, Halla Mohieddeen.
As anchor of STV News Tonight, Halla negotiates the many potential pitfalls - tricky pronunciations, technical faults, antsy interviewees … to name a random few - with a calm professionalism. But then Halla - though a relatively new face to Scottish television audiences - is a seasoned broadcaster who has spent more than ten years perfecting her craft on screen in China and France.
The former presenter of the Morning News and Middle East Matters programmes for Paris-based international news channel, France 24 and Chinese TV and radio stations: CCTV, Xinhua News Network Corporation and Beijing Radio 774, credits her Heriot-Watt languages degree for her avowedly international outlook.
"My MA (Hons) in Languages (Interpreting and Translating) [LINT] broadened my horizons, and helped with many of the day to day elements of news presenting," says Halla. "The LINT course encourages all students to be across national, European and global news on a day to day basis which is essential for my job.
"The degree also gave me a solid grounding in how to handle, compose and edit texts - not just for clarity but also for brevity which, again, is essential for journalists, particularly those working in broadcasting. My 3rd year spent studying in Germany and France was an integral part of the degree course as it introduces you to different cultures and new ways of thinking.
"The fact that you cover such a broad range of subjects and develop expertise across a range of disciplines gives all LINT graduates a really solid base from which to build a career. I would say that the LINT degree is a fantastic grounding not just for interpreters, but also for journalists, diplomats, economists ... take your pick!"
Halla (35) has made television history by presenting the first TV news programme to cover both Scottish and global news, as she explains: "I'm the anchor of STV2's flagship news programme: STV News Tonight. We broadcast live from Glasgow, across Scotland at 7pm on weekdays - and bring together Scottish, UK and International news. The integrated news format is a UK first and it's a really exciting project to be part of."
Fluent in French, Mandarin and German, Halla - who grew up in the Scottish Borders - has specialist knowledge of international affairs, Scottish and British politics, Chinese society, and an active concern, as a keen scuba diver, for marine and environmental conservation.
"Work hard, play hard, and make the most of it," is Halla's advice to new students who may want to emulate her flourishing media career. "Broadcast news is a fast-paced, exciting industry to work in, and one I thrive in.
"My favourite moment at STV so far came as we did our first live cross to a correspondent covering the Trump presidency and, in my earpiece, I heard the words, 'Hello Washington, this is Glasgow...' That still gives me a thrill and fills me with pride. "We're doing great things with STV News Tonight and there are lots of exiting times ahead."
18 May 2017