Dr William Lumsden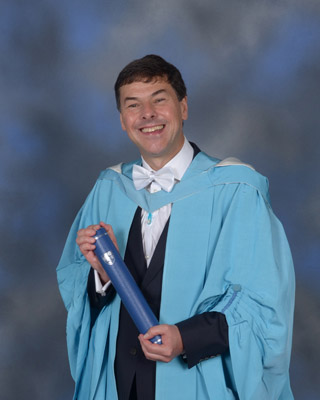 Honorary Doctorate of Science (Hon. DSc)
Graduation Ceremony: Wednesday 21 June, 2017
Dr William (Bill) Lumsden is regarded by the malt whisky industry as the pioneer of wood management, producing whiskies that have truly changed the single malt market.
Dr Lumsden holds a PhD in biochemistry and joined Glenmorangie in 1995 as distillery manager. Since then he has taken up the mantle of wood finishing and his ongoing experimentation has involved exotic casks such as fino sherry, claret, Côte de Nuits and Sauternes, as well as the company's core range of wood finishes. He has also further developed the company's famous slow growth, air-seasoned Ozark Mountain oak barrels, which he routinely uses in the Glenmorangie Ten Years Old and Astar expressions.
Dr Lumsden selects casks at various ages in order to experiment. He tours wine regions around the world, searching for the best wood that will complement the whiskies and impart unique characteristics all of their own.
The 2008 release of Glenmorangie Signet, arguably the most innovative whisky created in Scotland for many generations, showcased his approach to experimentation and innovation.By remaining true to his heritage, yet unafraid to experiment, Dr Lumsden has proven his success by winning many awards and accolades. In 2007, he was awarded Global Ambassador of the Year and Scottish Distiller of the Year, for his worldwide work promoting The Glenmorangie Company's portfolio of brands. He has also received the Malt Advocate Magazine Industry Leader of the Year Award in 2001, 2006 and 2008 in recognition of his position as one of the most knowledgeable and forward-thinking distillers in the world. In 2010, he was awarded the prestigious 'Outstanding Achievement in Scotch Whisky' award by the International Wine & Spirit Competition.
In 2012, Dr Lumsden was promoted to the board of the Glenmorangie Company, to the position of Director of Distilling, Whisky Creation and Whisky Stocks.