Mr Emad Azmy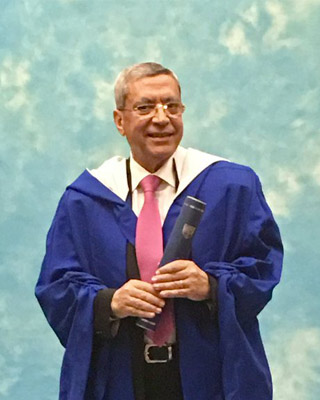 Honorary Doctorate of Engineering (Hon. DEng)
Graduation Ceremony: Wednesday 5 July, 2017
Emad Azmy is the President of Al Shafar General Contracting (ASGC), one of the United Arab Emirates leading building and contracting companies.
He has been closely involved with the company from its establishment in 1989 nurturing it to its present status, during which time Emad has personally overseen a wide range of construction projects. Some of his more notable projects are The Etihad Museum, Mohamed Bin Rashid Library, City Walk, Blue Waters, to name a few.
In recognition of the impressive financial performance of the company and scale of projects Emad has overseen, he featured in the "Construction Week Power 100" for two consecutive years in 2015 and 2016.
Emad started his career in 1975 with Egypt's leading construction company, The Arab Contractors, where he climbed the ranks before moving to Dubai to take up the position of project manager with Saleh Constructions.
Following through on his entrepreneurial spirit, Emad teamed up with Mohamed Saif AlShafar to establish Al Shafar General Contracting in 1989, when Dubai entered its initial construction development phase. Emad today leads a company that currently has projects worth Dhs.8 Billion and has branches in Abu Dhabi and Egypt.
Mr. Emad Azmy holds a BSc degree in Civil Engineering from University of Assiut, Egypt.