Dr Tony Strachan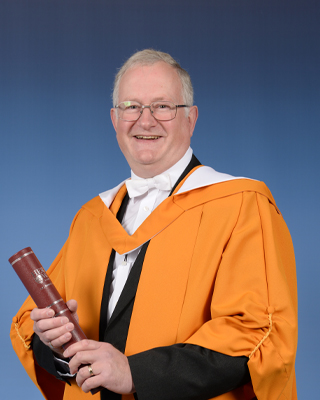 Honorary Doctorate of the University (Hon. DUniv)
Graduation Ceremony: Thursday 20 June 2019
Anthony John Strachan MBA FCIS was born and brought up in Buckinghamshire, although his father's family originated from the Aberdeen area. After school he joined the Bank of England in London, while studying in his spare time for a professional qualification as a Chartered Secretary. He later went on to study with the Open University Business School for an MBA.
As part of his career progression within the Bank of England, Tony worked in various departments, including having a two-year secondment to the Panel on Takeovers and Mergers. He returned from there to the Bank in London, before moving to Manchester in 1995 as the Bank's Agent for the North West of England. While in Manchester he served on the Board of the Manchester Metropolitan University, as a member of Court of the University of Salford, as Deputy Chair of the Museum of Science and Industry in Manchester and on various local boards, including Manchester Millennium Ltd and the Merseyside Special Investment Fund.
In 2003 Tony was delighted to be appointed as the Bank of England's representative in Scotland, where he was the Bank's 'eyes and ears', travelling widely to hear the economic perspectives of Scottish businesses and reporting back to the Bank's Monetary Policy Committee in London, to inform their decisions on interest rates. Based in Glasgow, he has also been involved in various capacities with several economic and business organisations.
Since retiring in 2010 to avoid returning to London, he has been involved principally as a Governor (latterly Deputy Chair) of Heriot-Watt University for eight years, he served for six years on the Board of Aberdeen Harbour, was the inaugural Chair of the Merchant Sinfonia in Glasgow and Treasurer of the Arts Society in Scotland and Northern Ireland.
Read the full laureation for Dr Tony Strachan.